4&Rotary NZ Drift Nationals. Hampton Downs Motorsport Park. October 3rd, 2010.
With D1NZ moving to a summer series, we've had a huge off-season. At the beginning of the year, there were quite a few events and practice days still happening, but as winter rolled in, the track time washed out. This has given many drivers the necessary time to improve their vehicles or build new vehicles. I opted to do the latter, and build a 1988 RX7 with a LS1 Chevrolet V8.
The first large scale drifting event of the year kicked off at Hampton Downs over the weekend, with the 4&Rotary crew putting on round1 of the NZ Drift Nationals. In typical fashion, I have been working on the vehicle tirelessly the last few weeks, right up to the night before the event to get it finished.
Arriving early Sunday morning at Hampton Downs, the sky was clear with little to no wind. We unloaded the rx7 and setup our pit area for the long day ahead. I came to this event expecting the worse, as I hadn't even driven the car before, nor do I have much experience with driving rx7's or v8's. We double checked everything, tyre pressures, damper settings, all oils and water, every nut and bolt I could get a spanner on, and then over the loudspeaker they announced it was time for our first drift practice session to grid up.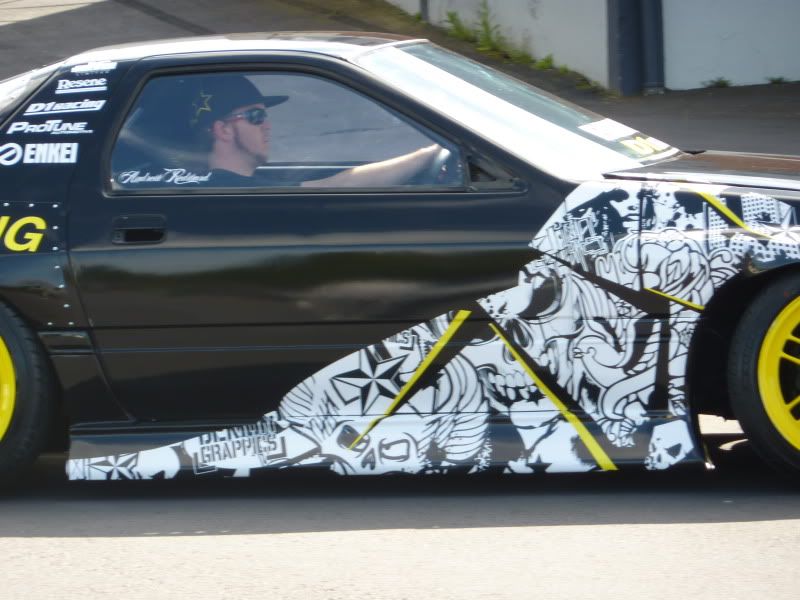 Sitting in the dummy grid, I went through my normal routine before getting on track. Had a quick stretch before sitting in my bucket seat, tightened my seatbelts, helmet and gloves on, sunglasses cleaned, tightened my belts again, and then got a good song stuck in my head while imagining the course layout and what strategy I would use to get used to the new vehicle. Pulling out of pitlane, the first thing I noticed was how light the powersteering was, I knew straight away this would be an issue. The power felt good and the car felt solid out the back, holding a drift was no problem, but switching and changing direction with absolutely ZERO steering feel proved very difficult.
I came back into the pits and told my team what the issue was. We got straight into getting the car up in the air, so we would be able to drain the powersteering system and reduce the pressure by cutting the pump spring. I took a stab in the dark, and cut a further 1.5 coils off of the spring which I had previously removed 3 coils from. We re-filled the powersteering system and I softened my suspension in the rear just as my group was being released onto the track. I jumped back in the car and was on my way. I'll let the following pictures give an idea of how the car ran after fixing the powersteering issue.
I was ecstatic with how the car handled, and the amount of smoke I was able to churn out thanks to the 265/35/18 Nankang NS2's. After a couple laps I was confident enough to use 4th gear through the entire drift section, including the hairpin, man do I love v8 torque! The only changes I made for qualifying was to lower the tyre pressures and soften the front dampers slightly. I put down two decent runs and got through qualifying in 6th place, I'm in the top16 for the first event in new car, stoked.
The lunchtime break gave the fans time to come and check out all the different vehicles, I was happy to see a constant swarm of people surrounding my car, asking questions, and checking out the extensive build. It feels great to have built a vehicle that gets a good response from the public, and looks just as rowdy sitting in the pits as it does drifting on the track.
The first battle had me pitted against Gee Mutch in his Japan-built S13 drift weapon. On my lead run, G made a mistake and straight lined behind me and lost some ground while I had a smooth run. In my chase I knew that it would just take a clean run to beat G, but I also wanted to get as close as possible to see what it is like to follow another car with the new setup, I went through to the top8.
In the top8, I paired up against Brad Lauder, a privateer who has been involved in drifting for quite sometime. He is very consistent, even with a lower-spec vehicle than others in the field. Each lap that I drove, I was getting more confident so I knew I could pull off something more aggressive for this match. I entered the section with a huge double feint, and drove with my foot flat to the floor in 4th gear up and over the Hampton hill, pulling a decent gap. I stuck right behind brad in my chase, and the judges put me through to the top4.
I was lined up for my top4 battle with Adam Richards, but unfortunately he was disqualified by the COTC. However, this meant I was in the top2!
I stood there and watched the other top4 battle to see who I would be going up against in the final, Daynom Templeman or Gaz Whiter. Gaz ended up being victorious over Daynom, and I knew I had my work cut out for me. Gaz is a tough competitor and has had a lot of seat time in his vehicle. All I could do was to try my best and put on a good show, as I was still coming to grips with the handling of the rx7. Gaz led out first with a very long e-brake entry, I was close behind but had more angle than him and washed out slightly at the bottom of the hill, causing me to lose some speed. The rest of the run was great. On my lead run, I did the big double feint again and powered through the course in 4th gear with a great run, but I could tell gaz was right on me. Gaz would go through to win the event.
I am quite happy with the 2nd place finish for the car's first competition debut. The car drove extremely well for a loose setup, and the v8 power is a huge step up over my previous 2.5litre turbocharged vehicles. There is still a lot of room to improve, and it will only get better and faster and wilder with more setup and power. We have to pull the gearbox out to sort out an issue with it getting stuck in 4th gear, and we will fix a few other small issues we noticed while that is out. Hopefully I will have time to go to a couple testing days before D1NZ round2 at manfield in November.
I have to give a big thanks to all the people and sponsors that have made it possible for me to compete this season in a new vehicle: Chris and the team at Nankang Tyres; Enkei Racing Wheels; Jackie and Marion from TurtleWax NZ; Ross Redward; Tristan Roper; Steve at Demon Graphics; D1 Racing; Darren at NZAD; HSD Suspension; Andy and Harry at Dodsons Performance; Wayne and Dean at ProTune Automotive; Kane and Andrew at Alfa Panelbeaters; Mike at Magwarehouse; and all the people that have helped along the way with advice etc.
-Andrew
Filed under: Event Reports | Tagged: achilles, achilles radial, alfa, cre8grafx, D1, d1nz, drift, drift max, drifting, eastern automotive, enkei, enkei racing, LS2, mad mike, redward, RX7, saito, tannock, V8 | 1 Comment »